The 6th Genghis Khan MTB Adventure spoke Mongolian as the riders from Ulanbaatar ruled from the beginning till the end. After yesterday's stunning performance, Tuguldur Tuulkhangai again shook off all his competitors to win the 100km third stage, while yellow jersey Altanzul Altansuckh managed to drop Feng Kuan Jie and Eric Felbabel to take the overall victory.
Very windy conditions in Xiwuqi today, which made the final 100km third stage on a entirely new course a challenge for every participant. "Yeah, today it was hard," said double stage winner Tuulkhangai at the finish. About halfway the race, he had accelerated the pace together with Altansuckh on a hill and eventually also dropped his compatriot to win the stage by over four minutes. Tuulkhangai raced so fast the past two days he still managed to move up to fourth place in the overall ranking, after a mechanical failure had cost him about 18 minutes on day 1.
Altansuckh wanted to make sure the overall would not be decided by stage placings or mere seconds, and rode aggressively enough to put time between him and his challengers Feng Kuan Jie and Eric Felbabel. Eventually, even the top guys all arrived one by one, so the 100km distance exposed each rider's true strength. Feng Kuan Jie and Felbabel battled it out as well, with the Chinese Team Triace rider ultimately edging the Hong Kong-based Frenchman by 1'44". Amazingly, that meant Feng Kuan Jie got second overall for the third time in his career after 2009 and 2010, and thus again failed to nail his first Genghis Khan MTB title. As he was also third overall last year, Feng Kuan Jie seems to be the "Raymond Poulidor" of the Genghis Khan MTB Adventure.
China's Sun Chengyi rode a consistent race all weekend without anybody really noticing him. Today he scored a magnificent fifth place, isolated by minutes between the top guns and a group of contenders typically led by Pierre-Arnaud Le Magnan (Team WTB-Chiru) and Edward Cork (Team Specialized).
The women's podium of today's 100km race mirrored that of yesterday, with Mongolia's Solongo Tsernlham cementing her overall victory with a third stage win ahead of Orkhontuya Batbaatar. Third place went to Wang Yawen.
Unofficial results – Stage 3 – 100km – Men
1. Tuguldur Tuulkhanghai (MGL) 3:26:49
2. Altanzul Altansuckh (MGL) 3:30:01
3. Feng Kuan Jie (CHN) 3:33:09
4. Eric Felbabel (FRA) 3:34:53
5. Sun Chengyi (CHN) 3:41:49
6. Pierre-Arnaud le Magnan (FRA) 3:47:59
7. Edward Cork (GBR) 3:50:25
8. Daniel Carruthers (NZL) 3:53:28
9. Jamsran Ulziibator (MGL)
10. Yin Bo (CHN)
11. Bertrand Jouve (FRA)
12. Mark Thirlwall (AUS)
13. Franz Jammernegg (AUT)
14. Wang Lidong (CHN)
Unofficial Final Classification
1. Altanzul Altansuckh (MGL) 204 km in 7:21:32
2. Feng Kuan Jie (CHN) 7:24:40
3. Eric Felbabel (FRA) 7:26:26
4. Tuguldur Tuulkhangai (MGL) 7:31:13
5. Sun Chengyi (CHN) 7:45:27
6. Pierre-Arnaud Le Magnan (FRA)
7. Edward Cork (GBR)
8. Jamsran Ulziibator(MGL)
9. Bertrand Jouve (FRA)
10. Franz Jammernegg (AUT)
11. Yin Bo (CHN)
12. Mark Thirlwall (AUS)
13. Daniel Carruthers (NZL)
14. Wang Lidong (CHN)
Unofficial results – Stage 3 – 100km – Women
1. Solongo Tserenlham (MGL)
2. Orkhontuya Batbaatar (MGL)
3. Wang Yawen (CHN)
Unofficial Final Classification
1. Solongo Tserenlham (MGL)
2. Orkhontuya Batbaatar (MGL)
3. Wang Yawen (CHN)
The top six of the 2012 Genghis Khan Adventure with Altanzul Altansuckh as winner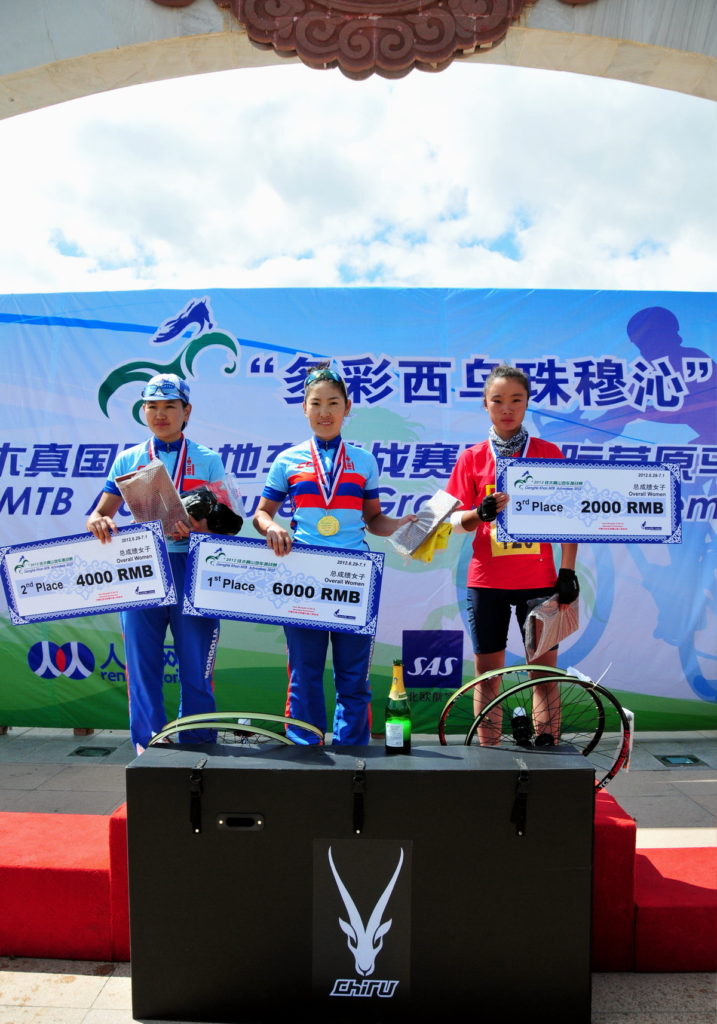 The top 3 of the women's overall classification