Living and working in Hong Kong, Frenchman Erich Felbabel was an imposing figure in this year's Genghis Khan MTB Adventure. Tall, unrelenting and with the physique of a Greek statue, the Chiru-WTB ace put pressure on the Mongolians and the Triace boys all weekend to finish third overall. Not bad for a triathlete in only his second MTB event! Reason enough for a short Q&A with Erich Felbabel.
The Genghis Khan Festival has become a classic on China's amateur sports calendar and will be organized already for the 7th time next year. How do you feel about this?
Another great quality event in China!
What did you like the most of the Genghis Khan Festival weekend?
The endless grasslands. Stunning views.
How did you experience your race in 2012? Was it more difficult than you expected?
It happened to be exactly what I wanted. Challenging but not completely out of reach. Always on the edge. Very interesting and motivating.
You are primarily a triathlete. How did you get involved with MTB and decide to join GKF as part of the WTB-Chiru Bikes team?
My friend Pierre-Arnaud from CHIRU bikes got me into the Langkawi MTB challenge in August 2011. That was my 1st time on a MTB for at least 20 years…And he did it again this year asking me to join the Gengkhis Khan festival. I like trying new things, so could not say no!
Did you like riding the WTB 29″ wheels? Do you feel it gave you and your team a technical benefit during the Genghis Khan event?
For me riding the 29ers is like being on a road bike. So I immediately felt at ease. Perfect choice for grasslands ride!
What is your main occupation in Hong Kong?
I am the founder and director of O2 CREATION doing sports apparel and accessories for endurance athletes. (www.o2creation.com)
Did you expect to finish on the podium of the Genghis Khan MTB Adventure?
I had no idea where I would come…but I knew Darren Benson did some great results here before (2nd in 2007 and 2008, 4th in 2011, kvdv) and I am not so far behind him usually. After the 1st day I knew I could definitely finish top5, top3 if luck was on my side.
What was your strategy for the race?
Try to always stay at the front with the main contenders. Never let them go too far…Which was tough for me as soon as some technical bits occurred (for instance MTBikers are used to going flat out on many steep climbs while we never do that in triathlon…Also at 88kg uphill is tough for me to stay in contact. Some downhills were pretty scary too…so the flats were the only place where I could make up some time and catch the group. Luckily for me, plenty of flats in the grasslands!
How difficult was it for you to start the first day in that heavy downpour of rain?
The first fast downhill after 2-3km was the trickiest part…I did not know the way and I happened to be on the wrong side of the path with a tricky jump to manage at the bottom. It went "ok" but quite scary after only 10min of racing…After it was all good, 100% time trial to catch up the guys. Finally made the junction after 15k and then they dropped me again…Took me again 10k to catch up once again! Finished in the top5 group. Great 1st day.
With the benefit of hindsight, how would you try to beat the Mongolians and Team Triace next time around?
You need a strong team, as simple as that! If you can hurt them with several attacks. Try a few breaks with someone at the front working for you. Then it's a different race… But don't believe it will be easy. They are really strong! Another key aspect would be to recco the course beforehand…as we got kind of lost once or twice during one stage. Could have made the difference between win or lose on that day.
What other races have you won or been on the podium?
I've been lucky enough to race on the pro circuit for 3 years already (triathlon / WTC) so it's been a long time since I have not actually won a race! But I can usually manage some podium in Asia where the competition is not as hard as in Europe or USA, Australia… Came 4th at the Ironman 70.3 in Japan for instance, the week before the Genghis Khan MTB race! 4th in Philippines 70.3 as well. Won the Asian Championship Long Distance triathlon in Weihai this year as well. Raced the Ironman 70.3 World Champs in Las Vegas in September.
How does the Genghis Khan MTB race compare with other mountainbike races you have done in your career?
Only did 2 so far. Langkawi and Genghis Khan. Clearly the Genghis Khan MTB race is not technical at all, which is why it was great for me (roadie without any MTB technical skills…). Also often MTB races are held over many loops of a small circuit, but here it's always one big loop in the grasslands every day, which is also the main thing that sets this race apart from others! Looks like a smaller version of the Mongolian Bike challenge (10-day MTB race in Mongolia country, kvdv). Can I say that?
Who are the people in cycling or triathlon you look up to and why?
No one in particular.
After the ITU Weihai long distance triathlon in September you said you might reduce your racing schedule in 2013. Can we see you again in the Inner Mongolian grasslands in summer?
It will depend on work. Very busy at the moment…Also crashed in Philippines in October and have not been riding once since… But maybe! I certainly hope so!
Which advice would you give to people who want to take part in the Genghis Khan MTB Adventure?
Get ready for some great fun!
Athlete website: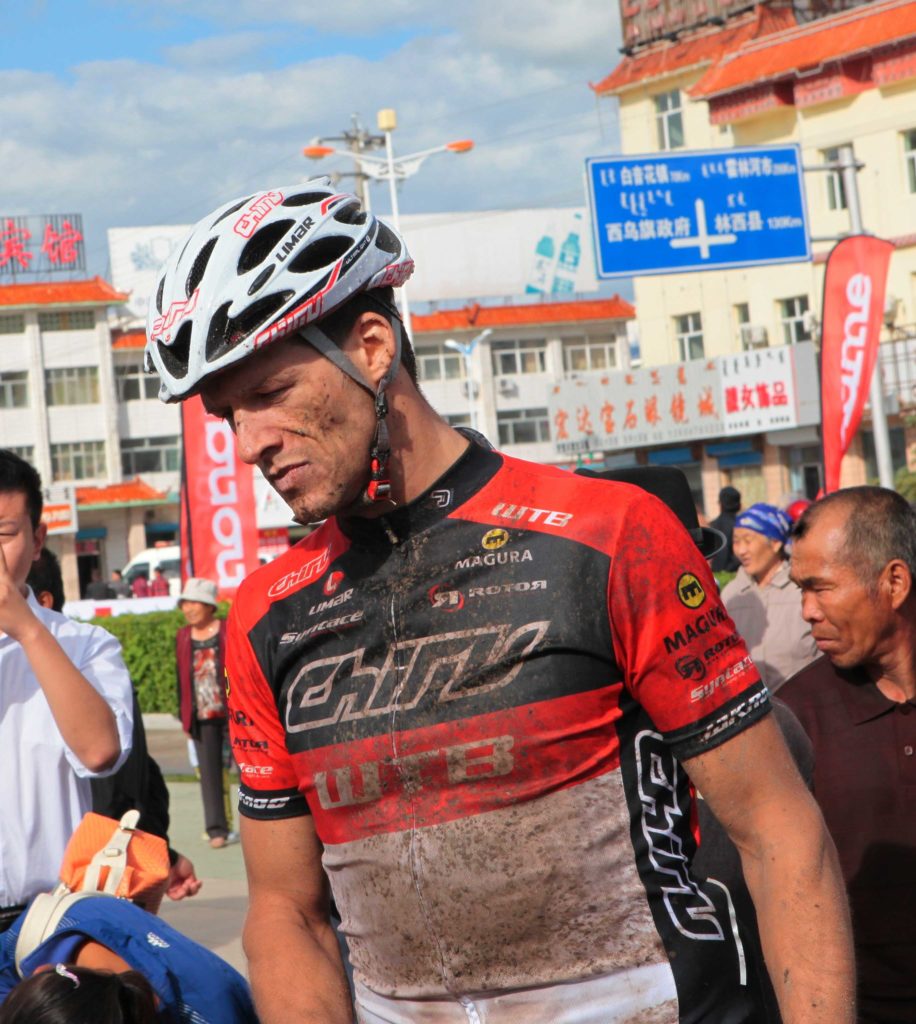 Based in Hong Kong, Felbabel is the 2012 Asian champion long distance triathlon. In Xiwuqi he proved that he is a force on the MTB as well