The project entitled  "GKF Running Star" this year turned out to be a great success. Four Chinese running ambassadors, followed by some 40 fans of theirs, took part in the 2012 Grassland Marathon, and spoke highly of the event. "I was impressed by the stunning view, and felt extremely relaxed and happy running on the grassland. It is definitely an unforgettable memory!" One of the running stars told us.
These participants shared their experience with friends and families after the event, and they expressed their will to come again in the following years.Therefore, and to further support the development of XC running in China, we will carry on with this project in the upcoming year. In 2013, apart from the well-known runner Wang Le from Beijing (Weibo ID: lele WangLe), we have also invited Gao Hailian (Weibo ID: nian 567) from New Balance Club in Shanghai, and Liu Wei (Weibo ID: Le Pao David), founder of Lepao Running club in Shanghai.
Our first ambassador is Wang Le. He has several identities including team member of a XC running brand in Italy, columnist of Business Value magazine and also he is a famous figure in Beijing running circle. He owns a large bunch of fans on his Weibo and his blog. He was spotted several times carrying a camera, shooting all the way during a marathon race in recent years, and was called friendly as "Le Le" (means smile in Chinese) by runners.
Our second star is Liu Wei from Lepao Running club in Shanghai, which was founded by his friends and him together in 2009. Most of its members are white collar workers living in Shanghai, but some also in Hubei province, Beijing and Singapore. This club is a non-for-profit organization, and they often organize activities for good causes, such as giving blood in cities, collecting rubbish on mountain trails, promoting running in communities and so on. It was once entitled "Star of Public Welfare" by Shanghai government due to its extraordinary achievements.
Gao Hailian is the only female among the three running ambassadors. She is a charming female runner with great personality. She is the activity director of some famous running brand, and the activity she organizes attracts over 220 people. She is crazy about extreme XC running, and she once ran a more than 100 km long cross country race, three times a 100 km, and participated 35 times in the well-known marathon events around the world. In 2012, she finished Vibram HK 100 km in 18 hours and 35 minutes, which deeply impressed the organizing committee and other participants. She has been interviewed by The Bund, Total Sport, Running and Physical Fitness program of CCTV-4 and many other media.
If you are one of their fans or you are willing to feel what it's like running in the grassland, join us now! We will continue to offer greater service to all runners in the 2013 event. See you around in the  Xiwuqi grassland next year!
Gao Hailian aka Helen Gao, 2013 Grassland Marathon ambassador in Shanghai
Wang Le, famous runner in Beijing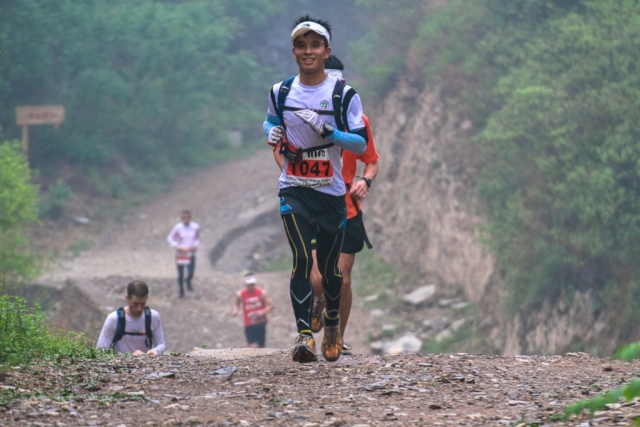 Liu Wei aka David Liu, a star of Public Welfare in Shanghai