With thunder and lightning on the horizon, Tugulduur Tuulkhangai outsprinted a group of six at the Yurt City and put the pressure back on yellow jersey Altansukh Altanzul (4th) before the big finale tomorrow. What is most amazing is that Tugu rode the whole race without a front wheel brake.
The 2nd stage of the Genghis Khan MTB Adventure was measured at 44km and got underway in very windy conditions. Nobody seemed keen for an early move and a large group of some 20 to 25 riders went offroad after 2.5km. The first test of the legs came after 6.5km with the Cannondale Cannonball sprint to the top of Nadamu Hill.Team Attila's Myagmarsuren Baasankhuu was clearly the fastest climber and took the sprint ahead of CCN teammates Altanzul and Erdenesuren Munkhtulga.
The three abovementioned names also appeared to be the strongest as they rode away from anoter trio led by Hu Hao. Tuulkhangai attacked on the steep climb away from the coal mine, but Altanzul paid attention and reeled him back in. Then, after a few descents the second trio caught up with the leaders again with 10km to go. Nobody managed to escape still and we had a royal sprint at the finish.Tuulkhangai narrowly outgunned Munkhtulga at the the line with Hu Hao spoiling the all-Mongolian-party today with a third place podium finish. Expect more from the 19-year-old Nanjinger on day 3.
Altansukh Altanzul stays in yellow with 1'34" advantage over Tuulkhangai. It looks very much like they will contest the overall victory in the 3rd and final stage of 100km. Even though Altanzul is even stronger than last season, he cannot relax as Tuulkhangai won the long stage last year with over three minutes advantage over him…
In the women's event, Mongolia's Enkhjargal Tuvshinjargal is dominating ahead of Sweden's Eva Lena Lehikoinen.
The MTB +40 Age Group competition is also shaping up nicely with Pierre-Arnaud Le Magnan in the lead after 2 stages, but several riders are not far behind in time so that he cannot afford an off-day on stage 3.
Results
Men
1. Tuguldur Tuulkhangai (MGL) 44km in 1:29:29
2. Erdenesuren Munkhtulga (MGL)
3. Hu Hao (CHN)
4. Altansukh Altanzul (MGL) at 2″
5. Myagmarsuren Baasankhuu (MGL)
6. Jambaljamts Sainbayar (MGL)
7. Ulziibaatar Jamsran (MGL)
8. Khangarid Naran (MGL)
9. Liu Shuming (TPE)
10 Enkhtaivan Bolor-Erdene (MGL)
11.Daniel Carruthers (NZL)
12.Pierre Arnaud Le Magnan (FRA)
13.Jiang Haitao (CHN)
14. Edward Cluer (GBR)
15. Aron Aakesson (SWE) )
Full provisional results can be found on the Results Page.
The men's podium at Mongolian Yurt City. Nanjing's Hu Hao is third.
Team Attila from Ulaanbaatar set up a lead out train for the Cannondale Cannonball sprint!
With success as Baasankhuu clearly wins the sprint on Nadamu Hill !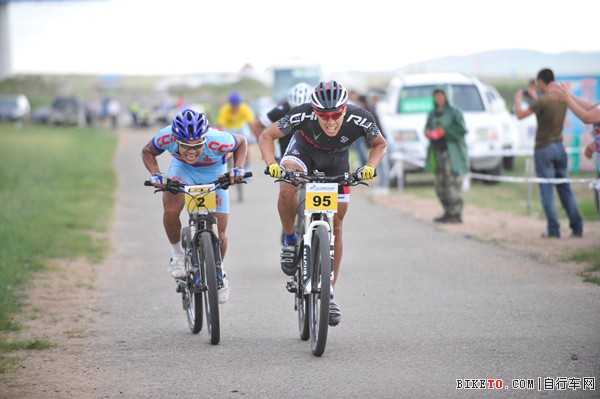 Tuulkhangai is just faster than Munkhtulga at the finish after 44km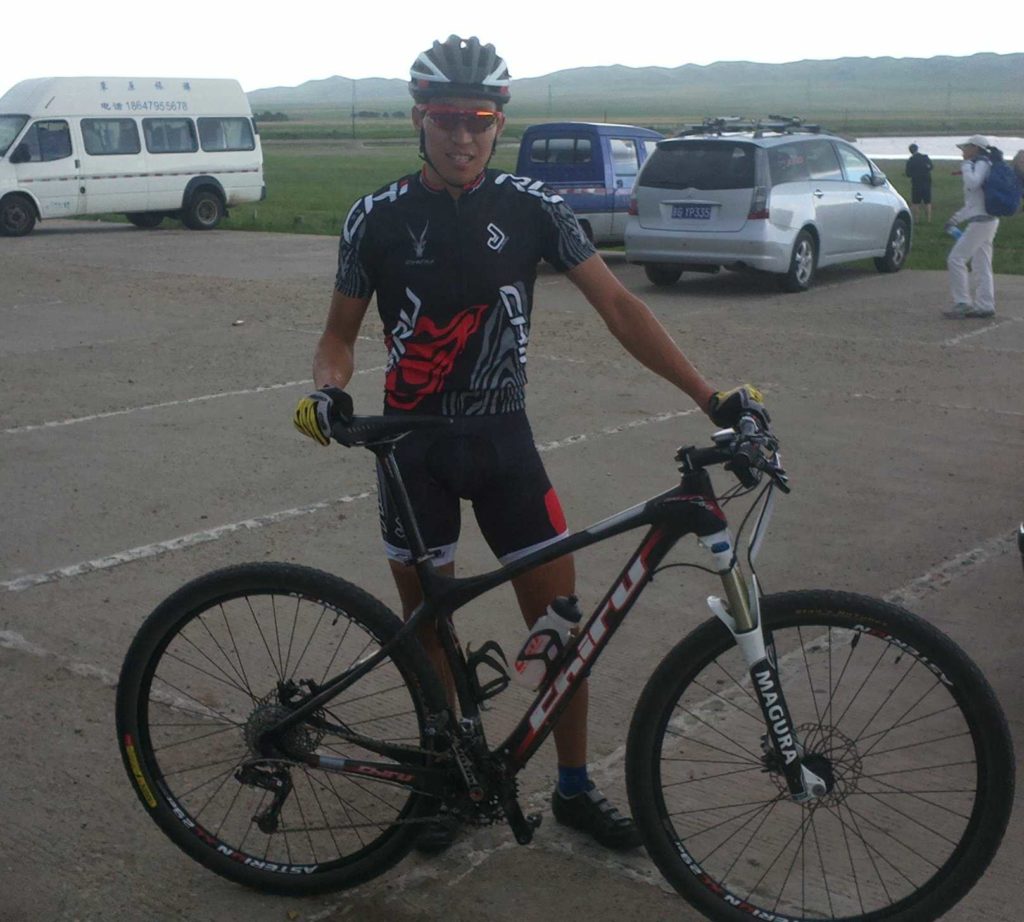 Tugulduur Tuulkhangai rides for Team Chiru-WTB at this year's Genghis Khan stage race.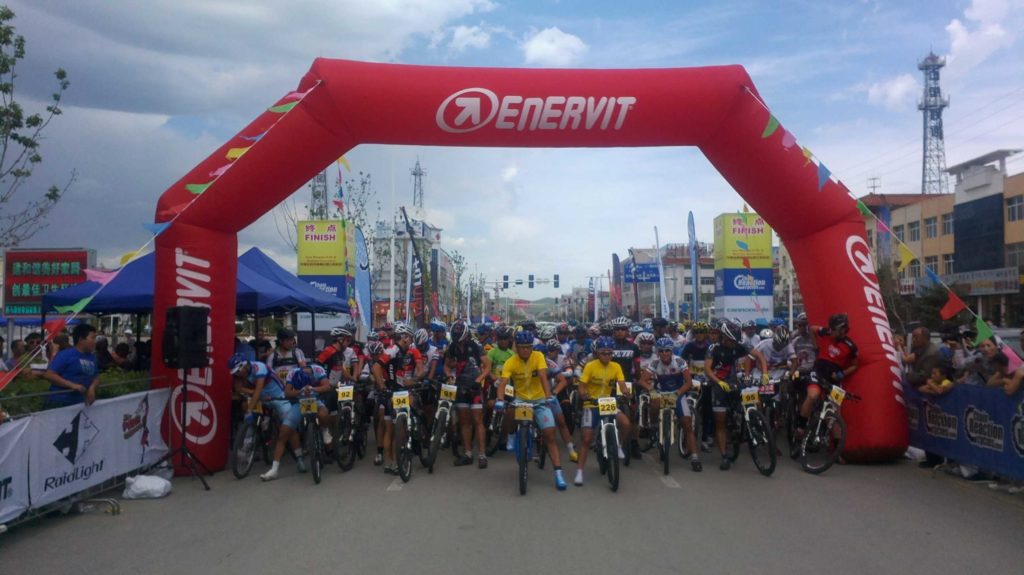 The start of the 2nd stage with the yellow jerseys in front
Sunset with double rainbow at Mongolian Yurt City during the Welcome dinner & party