Despite promising blue skies and sunshine in the hours leading up to the start of the 2012 Genghis Khan MTB Adventure, the participants got drenched in rain as soon as the opening ceremony ended and the gunshot was fired. A heavy downpour turned the first 63km long stage into a true epic race, won in a four-man sprint by Mongolian rider Altanzul Altansuckh.
Five riders dominated the race today. Feng Kuan Jie and Wang Lei, the men to beat here in Xiwuqi, wasted no time and set a blistering pace on the first climb to split the field open rightaway. Edward Cork from Team Specialized, winner of a MTB race in Shanghai last month, tried to keep up, but discovered they were just a tiny little too fast. Meanwhile, Daniel Carruthers from Team WTB-Chiru Bikes had a good start but then lost ground, as many other riders also slid away in the threacherous and now muddy trails. Even the leading car and the media car spun around or got stuck in a mudpool at some stage!
As the rainshower passed, Tuguldur Tuulkhangai from Ulanbator looked very strong and kept up with Wang Lei and Feng Kuan Jie all the way, often even setting the pace. The three of them looked like they were going to decide the outcome of the stage, but at km 40 they were joined again by Altanzul Altansukh and a bit later by Frenchman Erich Felbabel(Team WTB-Chiru), who rode a smart race and kept the leaders within range. With 10km to go, disaster struck for Tuulkhangai as his chain came off in a bad way, which ruined his chances for success today. Meanwhile, the Triace-duo accelerated the pace on numerous occasions, sometimes even with a solid attack, but Feldbabel was always on guard and Altansukch was not to be dropped neither. As such the many spectators in the town centre of Xiwuqi witnessed a royal four-man sprint won by Altansukh ahead of Feng Kuan Jie and last year's stage 1 winner Wang Lei. Felbabel had to settle for fourth place.
The four of them eventually had an advantage of seven minutes over fifth place, Edward Cork. Last year's Genghis Khan MTB champion Feng Kuan Gao did not feature up front today and finished outside the top 12.
Despite the downpour and the subsequent muddy and tough conditions, riders were in great spirit after the race. "It was really good," said Felbabel. "The two Chinese riders were really strong in their accelerations, it was hard to keep up with them especially in the beginning". Feng Kuang Jie, who had to settle for yet another second place here in Xiwuqi, added "it was a difficult but great race".
The women's race also saw strong rides from the Mongolian team with a 1-2 finish. Solongo Tserenhalm had the better of her teammate Orkhontuya Batbaatar, with American Katie Fischer completing the podium in third place. Amazingly, Fischer will also do the half marathon run tomorrow.
The rainfall at the start demoralised quite a few bikers today who eventually would not finish the stage. Tomorrow's second MTB stage is 43km long over plenty of new terrain and finishing in the Mongolian Yurt City. The weather forecast, touch wood, is positive.
Official results are now published on the Results Page.
Updated 19:00
Unofficial results MTB Stage 1 – Men – 63km
1. Altanzul Altansuckh (MGL) 2:24
2. Feng Kuan Jie (CHN) 2:24
3. Wang Lei (CHN) 2:24
4. Erich Felbabel (FRA) 2:24
5. Edward Cork (GBR) 2:31
6. Sun Chengyi (CHN) 2:32
7. Pierre Arnaud le Magnan (FRA) 2:33
8. Jamsran Ulziibator (MGL)
9. Daniel Carruthers (NZL)
10.Franz Jammernegg (AUT)
11. Betrand Jouve (FRA)
12. Yin Bo (CHN)
13. Mark Thirlwall (AUS)
14. Tuguldur Tuulkhangai (MGL)
Unofficial results MTB Stage 1 – Women – 63km
1. Solongo Tserenhalm (MGL)
2. Orkhontuya Batbaatar (MGL)
3. Katie Fischer (USA)
Photo: Wang Lei (left), Tuguldur Tuulkhangai (right) and Feng Kuan Jie (hidden) ruled most of the stage.
Photo: Erich Felbabel joined the leading trio again after 45 kilometres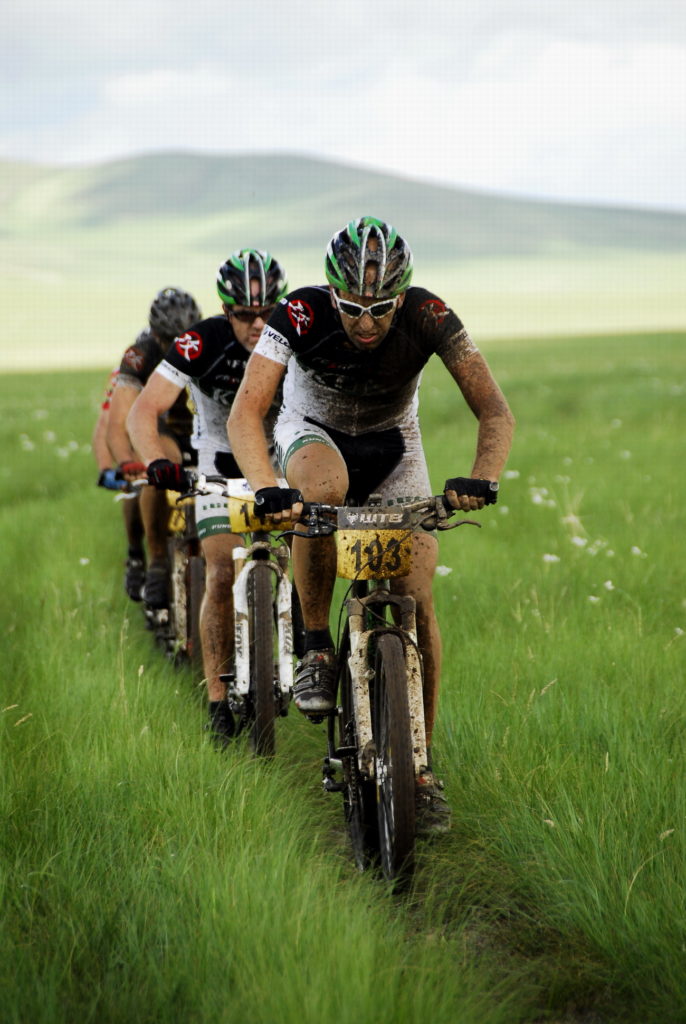 Photo: Genghis Khan MTB regular Bertrand Jouve scored an great 11th place today
Photo: the Mongolian duo of Solongo Tserenlham and Orkhontuya Batbaatar dominated the women's race today