Feng Kuanjie is one of the most famous cyclists in China. With the firm belief that only working harder than others can make one's dream come true, he has won many major domestic races, both onroad and offroad. At GKF, however, the Team Triace ace has always found someone a tiny bit faster than himself. Feng Kuanjie finished second overall three times, and third once, but as our Q&A reveals, he stays pretty cool about that.
Q: You've got second place three times and a third place once in the previous Genghis Khan MTB events, are you determined to win it next time?
A: It doesn't matter whether it is first or second place. I'm pretty clear of my objective at Genghis Khan, that is to see the distinct scenery and taste the special food! To win the race doesn't matter that much!
Q: What do you think is the main reason for not winning the overall classification over the past four years?
A: Ability decides place! The main reason why I did not win the race was because I was not good enough on a track like that, which is very challenging for me in its long distance and racing time. It just proved my ability is not good enough.
Q: In your opinion, which part on the track was the hardest in Genghis Khan MTB adventure? What tricks did you often adopt?
A: Every part of the track could be the hardest or the easiest because the most challenging factors are the rain, wind and getting lost. Last year, the first stage  was the hardest as it was raining in the beginning. The track was wet and slippery after being soaked in rain, and some places were muddy. It was hard to control the bike as my tires were too hard to go straight through the mud.
Q: In last year's long-distance road bike event in Yanbian, you  won the race in Helong. How did you feel about it comparing with the Grassland MTB adventure?
A: They are different as road bike competition relies more on team work. To work with your teammates is necessary in winning the race. Road courses usually are also straightforward  and you don't have to worry about the direction to take. However,  a long distance road race  is rather challenging!
Q: Which one do you like more, road bike or MTB competition?
A: I like MTB more, because I don't have to worry that I may fall when others fall, which sometimes happens in road bike races. I like mountain bike race because of its unique blend  of skill, curves, downhill, and quick shift-gear. It is funnier than road bike race. I also enjoy audiences' screaming when rushing down the hill.
Q: How do you find the teamwork inside Triace in the GKF? What is your aim in 2013?
A: First the itinerary planning, equipment preparation, and logistic staffs of Triace are all good. These are important factors, I must say, and Triace is doing well at these all the time. The cooperation between teammates on the field is always smooth, no matter in GKF or other competitions over the past two years. The past 13 years have seen people coming in and out, and I hope those who newly get in the team could get on well with others, and learn the importance of teamwork.
Q:Your determination in fighting on inspired many amateur bikers, and also drew attention from them. What do you think that many others want to beat you?
A: One either wins or loses in a race, so nobody can guarantee of never being beaten. At an amateur race, the bikers do not take professional and systematic training, so the winner is the one who trains most. If you win, you work harder than others. On the contrary, if you lose, you need more training.
Q: Do you have any suggestion to GKF MTB Adventure?
A: Genghis Khan event has always been successful and influential all these years. It is the unique MTB one among so many events with a track  on the grassland. With the breathtaking views, professional planning and the organizing crew from Nordic Ways, it attracts many domestic bikers and even from overseas. Perhaps I could provide a few tips nonetheless:
Maintenance area. Could the organizing committee consider introducing a maintaining area at the event site? I don't think there was one (maybe I didn't see it, but last time there were technicians from Holy Brother and they helped a lot). To host an event in a town without a professional bike shop around, a mechanical assistance service would help a lot to the athletes!
The grassland tracks. The signs are clear, although some of them are blown down by wind or knocked down or bitten by herds of cattle. Wang Lei of our team confronted such problem last year and he went the wrong way, which caused his disqualification from that day's result.
Leading car. Only the leading group can see the leading car, while others ride alone most of the time. I was in such situation last year. When I was at a crosspath with the sign lying down on the ground and without leading car or volunteers, I had to look for the next sign. And I had to ride onto the hill to look for it among those ups and downs. It took time.
Feng Kuanjie (40) always comes close, but mostly finds someone a tick faster than him at GKF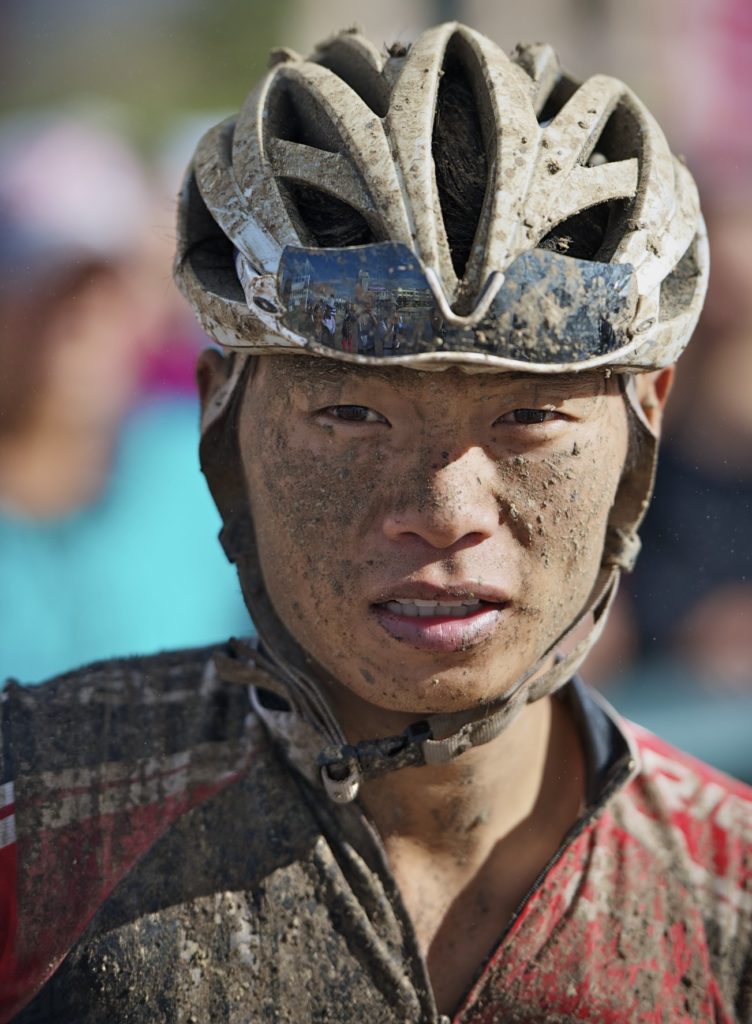 Feng Kuanjie after losing a sprint finish on day 1 of the 2012 GKF MTB