Sweden's Linus Holmsäter confirmed his top favourite status with an impressive sub 3 hour win (2:53:27) in today's Grassland Marathon, initially ran in ideal temperatures and without wind. Holmsäter had to work harder than expected, though, as 18-year-old Ren Siwu stuck to him until km 35. France's Juliette Camelot won the women's marathon.
More than 550 runners took the start at Xiwuqi's Culture Square at 7 o'clock in the morning for what is truly one of the most beautiful and serene cross country running events in China. The young Chinese runner made a quick start and put Holmsäter under pressure. Ren Siwu was leading the Swede by up to 40 metres at some point, but after 12km the Swedish Heyrobics icon came back to him. From that point onwards, they ran together in great style. There was some drama at km 16 when the two leaders missed a sign and ran off in a wrong direction. Luckily, the race director was eventually able to shout them down, following which they got back on the right trail. Even though, they probably ran up to 400 metres more the third place runner was not in sight yet.
Ren Siwu, who has credentials on the half marathon distance but was running his first full marathon ever, had to let his competitor go on occasion, mainly in descents, but he always managed to bridge the gap with Holmsäter again. At km 35, during a long descent, Holmsäter started pushing and managed to drop Ren Siwu. Quickly the gap became 100 metres and the Chinese youngster gave up the challenge and would eventually finish still seven minutes down on Linus Holmsäter, who jumped with joy across the finish line.
The succes for HeyRunning was complete, as Poland's Sebastian Wojciechowski won the half marathon today. The women's half marathon went to a delighted Maria Jammernegg, incidently the very first person to sign up for this year's event last September!
Full results of the 2013 Grassland Marathon via the RUNNING section – results page.

Men
1. 4021 – Linus Holmsäter (SWE) 2:53:27
2. 4028 – Ren Siwu (CHN) 3:00:03
3. 4261 – Zhang Tenfei (CHN) 3:17:19
4. 4109 – Gong Zheng (CHN) 3:19:27
5. 4026 – Neil Fraser ((GBR) 3:26:24
6. 4036 – Su Changliang (CHN)
7. 4058 – Zhou Zhen (CHN)
8. 4077 – Jonathan Bradley (GBR)
9. 4225 – William Marks (GBR)
10. 4254 – Geoffrey De Bilderling (BEL)
Women
1. 4350 – Juliette Camelot (FRA)
2. 4306 – Meng Wen (CHN)
3. 4348 – Anne Schummel Larsen (DEN)
4. 4365 – Qin Ruiping (CHN)
5. 4326- Tara Wilkinson (GRB)
6. 4341 -Weng Yuanshun (CHN)
Half Marathon
Men
1. 2066 – Sebastian Wojciechowski (POL) 1:34:58
2. 2147 – Huang Jiangcheng (CHN)1:35:20
3. 2021 – Alex Marston ( ) 1:45:14
4. 2065 – Javier Jimenez Ruiz de Osa ( ) 1:50:24
5. 2102 – Bertrand Martzel (FRA) 1:51:12
6. 2141 – Alexander Piorecki (POL) 1:51:30
Women
1. 2201 – Maria Jammernegg (AUT) 2:07:56
2. 2232 – Jing Yan (CHN) 2:10:26
3. 2293 – Sonna Simone Pelz (GER) 2:14:03
4. 2284 – Mercedes Del Valle Alonso (ESP) 2:14:53
5. 2264 – Astrid Christine Kirschbaum (GER) 2:15:56
6. 2216 – Valerie Pidcock (CAN) 2:19:11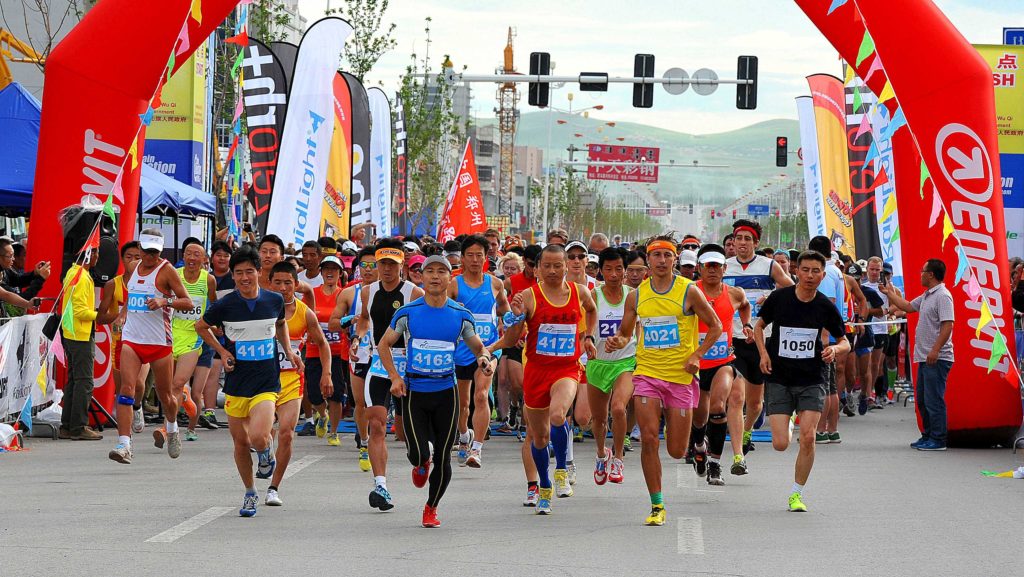 The start of the 6th Grassland Marathon in Xiwuqi
Linus Holmsäter and Ren Siwu were a class above the rest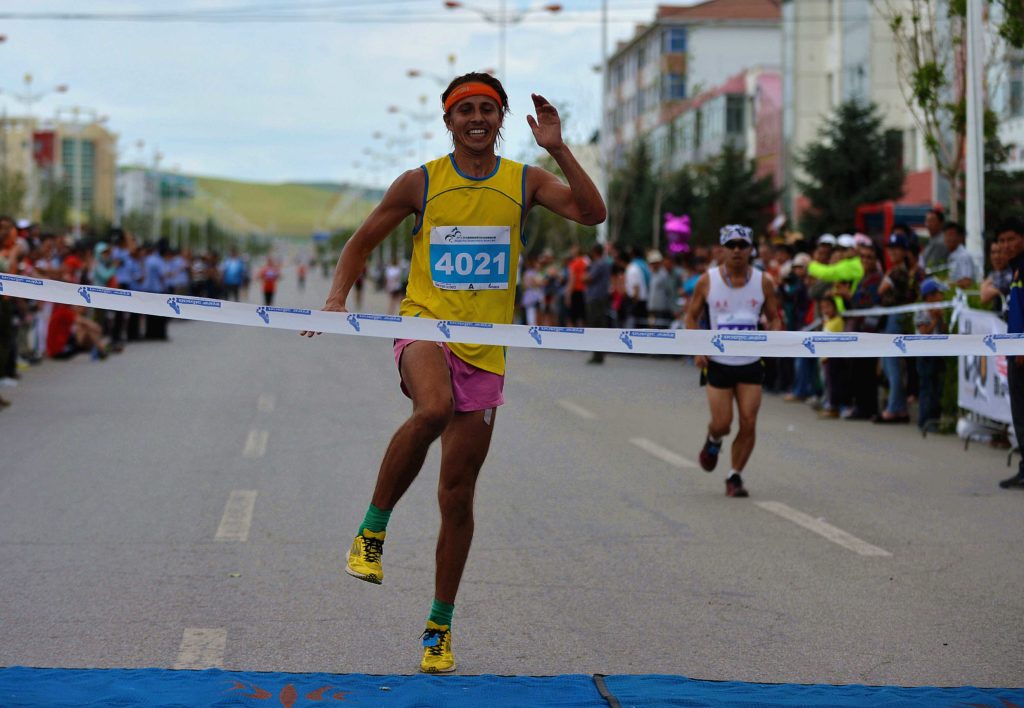 2013 Grassland Marathon winners Linus Holmsäter and Juliette Camelot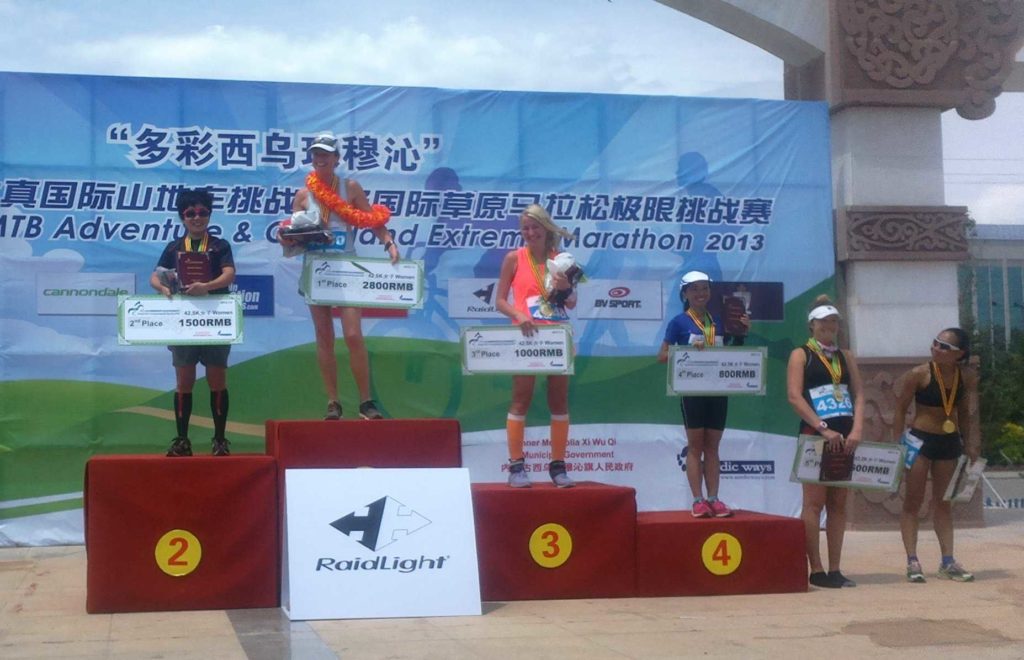 The women's 2013 podium with Juliette Camelot on the highest step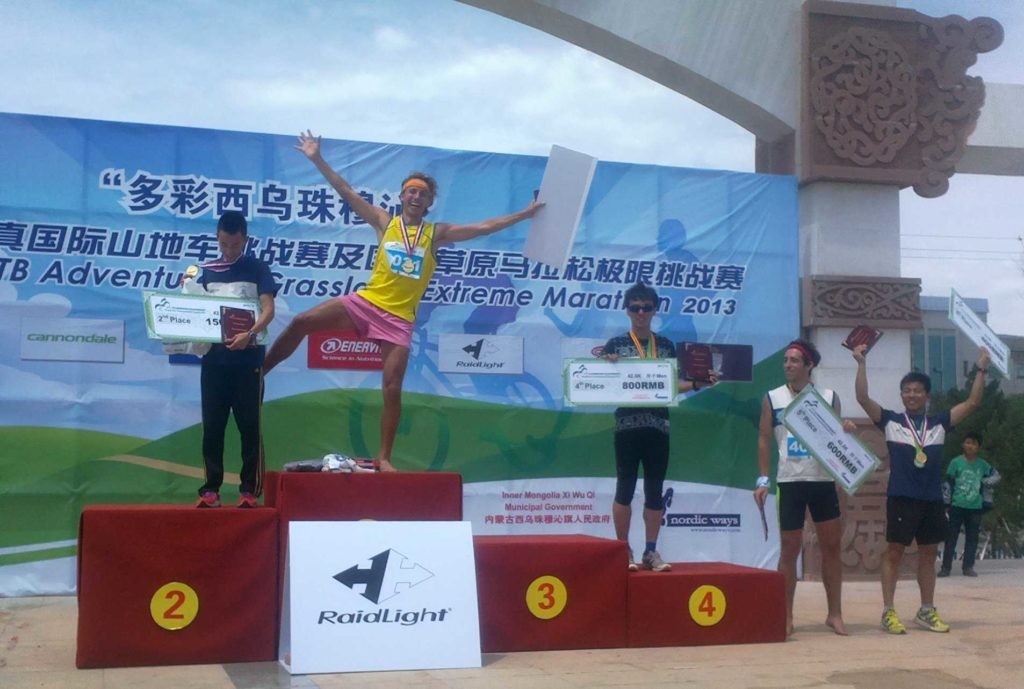 The men's 2013 podium with Linus Holmsäter in heyrobics style. Nr 3, Zhang Tenfei was already on the way home