The final podium ceremony of the Genghis Khan Festival on Sunday afternoon is since last year reserved for the strong men who competed in both the Grassland Marathon run and the 3-day MTB Adventure. And for the second consecutive time it was Wang Lidong who earned the title of King of the Grasslands.
In fact, Wang Lidong was even more impressive than before – at least during the mountainbike stages. The athlete from Daqing in Heilongjiang laid the foundation of his successful title defence on the bike, indeed. On day 1 he even managed to score 10th in the 63km long classic stage that opened the MTB Adventure! Wang Lidong was not the fastest Grassland Marathon runner – that honour went to Ding Zhijian in a superb 3:14:17 -, but also during stages 2 and 3 nobody was able to hang onto the King.
The battle for the other steps on the podium was tight. Luo Jingyu and Deng Feng did not give each other much space all weekend. Team Chiru-Magura's Antoine Berte was evenly matched on the bike, but his run was significantly slower so the Taiwan-based Frenchman had to settle for fourth place. Chen Jian and Max Gray were also invited to the podium in places five and six.
The King of the Grasslands competition is tough, and this year's hot weather made it particularly hard for several participants to finish the 96km long final MTB stage. 34 athletes completed all races within the allotted time, which is about half of the starting field. All 34 are true grassland heroes and can be genuinely proud of their achievements.
Can anybody challenge Wang Lidong's crown next year? The online registrations for 2015 will open in the next days. Meanwhile, check all results of the KOG participants right here.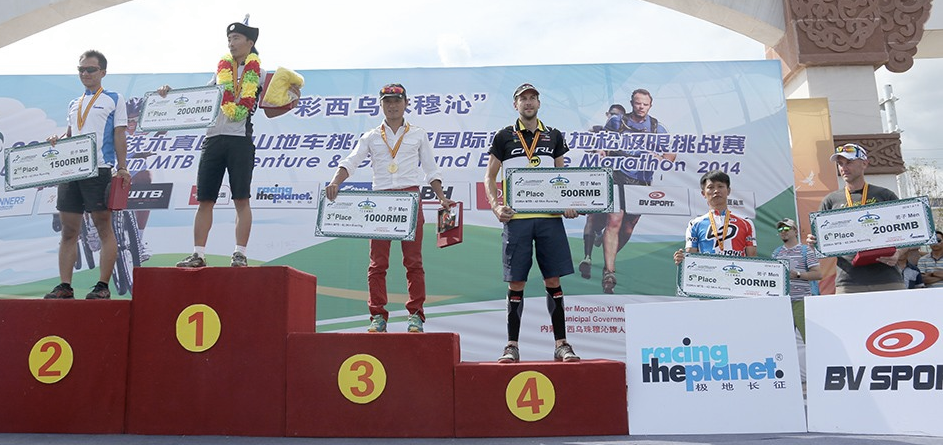 Podium of the 2014 King of the Grasslands competition with Wang Lidong firmly on 1.