The 2012 Grassland Marathon in Xiwuqi was dominated from start to finish by Chinese runner Yun Yan Qiao,who left the rest behind after one kilometre and ran an amazing solo on the event's new long course to finish in 3:05:20. Fastest marathon woman today was Sarah Edson from Great Britain, who crossed the line in 3:57:53.
A record number of participants woke up under a blue sky and enjoyed warm temperatures already at the 7 a.m. start this morning. The trails in the grasslands has dried up overnight after the heavy rain from yesterday afternoon, which was good news for everyone. However, the long distance runners had to battle a rather strong headwind for most of the final 20 kilometeres, which -together with the 500 altitude metres-, made the Grassland Marathon live up to its "extreme" monicker. In fact, because local farmers had been putting up new fences here and there, the course eventually ended up to be 44km, subject to the trail chosen.
Nobody was able to match the pace set by Yun Yan Qiao, whose consistent stride was a delight to watch. As soon as he went offroad after about 2km, he had a gap over the others and never looked back. Yun Yan Qiao also struggled with the wind towards the end, but his performance was outstanding. Second place went to a local runner, Amuritubuxi, over 18 minutes later in 3:23:37. Irishman Aidan Ryan completed the podium in third place with a time of 3:31:20.
Sarah Edson, who lives in Shanghai and is co-organiser of the Masai Ultra running event in Kenya this September, edged out Denmark's Anni Vedel, by just under ten minutes. 52-year-old Anne Gheleyns from Belgium took the final step on the podium with a superb third place.
Also in the men's half marathon one Chinese runner stood out. Xu Xiao Rong ran nearly six minutes faster than Australia's Mark Thirlwall (1:26:51 vs 1:32:38). Thirlwall had yesterday's 63k MTB stage in the legs, though. Astonishingly, America's Katie Fischer – yesterday third on the 63k MTB stage, won the women's half marathon in 1:43:32, which was the fourth fastest time overall!
Participants at the event arena afterwards expressed gratitude and great satisfaction with today's route and overall event. The Xiwuqi grasslands were indeed at their most beautiful this morning.
Update: Official result lists
Unofficial results
Marathon – Men
1. Yun Yan Qiao (CHN) 3:05:20
2. Amuritubuxi (CHN) 3:23:37
3. Aidan Ryan (IRL) 3:31:20
4. Michael Shoholm (SWE) 3:39:34
5. Teng Bai (CHN) 3:44:56
6. Yang Jian Guo (CHN) 3:46:42
7. Frank Michael Riehn (GER) 3:47:27
8. Scott Snyder (USA) 3:49:17
9. Zhang Su Hai (CHN) 3:50:00
10. Nourredine Sahibi (MAR) 3:52:28
Marathon – Women
1. Sarah Edson (GBR) 3:57:53
2. Anni Vedel (DEN) 4:07:0
3. Anne Gheleyns (BEL)
Half Marathon – Men
1. Xu Xiao Rong (CHN) 1:26:51
2. Mark Thirlwall (AUS) 1:32:38
3.
4. Simon Rabinovitch (CAN) 1:45:38
5. Johannes Baumann (GER) 1:46:22
Half Marathon – Women
1. Katie Fischer (USA) 1:43:32
2. Kelly Leigh Oliver (NZL) 1:49:13
3. Zhu Ling Ling (CHN) 2:00:11
More news and photos coming soon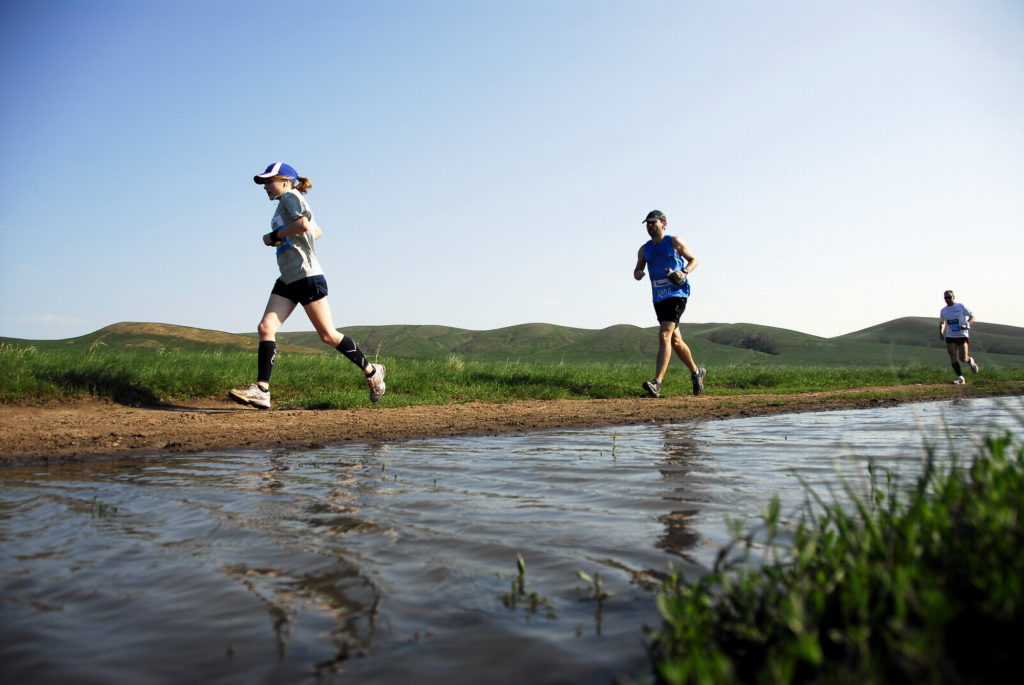 Photo: Shanghai-based Briton Sarah Edson won the women's marathon
Nobody could match China's Yun Yan Qiao in the Grassland Marathon today