The start of the 7th Genghis Khan MTB Adventure saw a genuine coup by Mongolia as defending champion Altansukh Altanzul led no fewer than 9 of his compatriots into the top 10! In the women's Asian TT champion Enkhjargal Tuvshinjargal added even more cherries on the pie for the riders from Ulanbaatar.
Very hot temperatures and a blue sky at Nadamu Arena for the gunshot was a big contrast to last year when the participants were greeted by a massive downpour. Mongolia's top duo, Altansukh Altanzul and Tugulduur Tuulkhangai – riding for different teams this year – wasted no time and went flat out on Nadamu Hill to gain an early advantage over the other protagonists. It caught a few out cold, while other contenders like Taiwan's Liu Shuming had a tumble right after the start that caused a queue.
Tuulkhangai pressed on and outsprinted Altanzul to claim the Cannondale Cannonball intermediate sprint after 4.5 km. Behind the duo was a quartet headed by Nanjing's Hu Hao, Mongolia CCN's Munkhtulga and two riders from Team Attila.
WTB ace Daniel Carruthers was 7th on Nadamu Hill but found the blisterig pace just a little too mighty and so did Chiru riders Ed Cluer and Fraser Young. At first, it looked like Tuulkhangai was setting it up for one of his long solo wins, but the still only 21-year-old Altanzul started to take turns ever more so and actually seemed very much at ease. After 20km, Altanzul even dropped Tuulkhangai on one of the several rolling climbs! The Mongolian Chiru-WTB rider chased like mad, however, and managed to get back to the Mongolia CCN rider just before the first checkpoint and drinking station at km 25.
Behind the duo, there was a long gap already and it was clear that they would contest today's victory.
At km 28, there was a very strange scene as Tuulkhangai crashed down hard on a straight path and Altanzul tumbled over his compatriot! They both got up quickly and continued but Tuulkhangai was clearly uncomfortable as Altanzul waited for him. The reason: his left handlebar had broken off and the hand grip was gone.  Altanzul did not want to waste any time further and decided to go solo. He steadily increased the gap and even seemed surprised himself he could not spot anybody every time he looked behind. He cruised to the finish with 1'34" on Tuulkhangai, who did an incredible job given his damaged bike. There was a centimetre sprint for third place a couple of minutes later. Munkhtulga narrowly edged out Hu Hao and thus made it in all Mongolian podium today.
Close to 300 bikers took the start in what is the biggest Genghis Khan MTB Adventure to date. The race offers something for everybody but the people aiming for placings could not have said it better than Austria's Franz Jammernegg, who is 3rd in the +40 age group category and just finished in the Top 20 today: "did I get so much older in 1 year or did the level go up so much?"
In the King of the Grasslands competiton, subject to whether they indeed run the full Grassland Marathon tomorrow morning, we have China's Wang Lidong leading David Oliver and Hauke Stockrahm by approx. six  and eight minutes respectively.
Tomorrow will see Altansukh Altanzul starting in the yelllow jersey. The advantage he has over Tuulkhangai is a big bonus after day 1, as the latter dominated stages 2 and 3 last year.
Top results
Men
1. Altansuckh Altanzul (MGL)
2. Tuguldur Tuulkhangai (MGL) at 1'34"
3. Erdenesuren Munkhtulga (MGL)
4. Hu Hao (CHN)
5. Myagmarsuren Baasankhuu(MGL)
6. Somomtseren Delgerbayar (MGL)
7. Khangarid Naran (MGL)
8. Jambaljamts Sainbayar (MGL)
9. Narankhuu Bat-Erdene (MGL)
10. Maral-Erdene Batmunkh (MGL)
11. Edward Cluer (GBR)
12. ulziibaatar Jamsran (MGL)
13. Fraser Young (CAN)
14. Pierre-Arnaud le Magnan (FRA)
15. Liu Shuming (TPE)
16. Daniel Carruthers (NZL)
17. Jari Erik Kolehmainen (FIN)
18. Batmukh Mijid (MGL)
Women:
1. Enkhjargal Tuvshinjargal (MGL)
Cannondale Cannonball Sprint (km 4.5)
Men: 1. T. Tuulkhangai (MGL) 2. A. Altanzul (MGL) 3. E. Munkhtulga (MGL)
Women: 1. E. Tuvshinjargal (MGL) 2. E.L. Lehikoinen (SWE) 3. Song Liping (CHN)
Full results Stage 1
Start of the 7th GK Adventure under a clear blue sky!
Altansukh Altanzul goes for it as his compatriot broke part of his handlebar.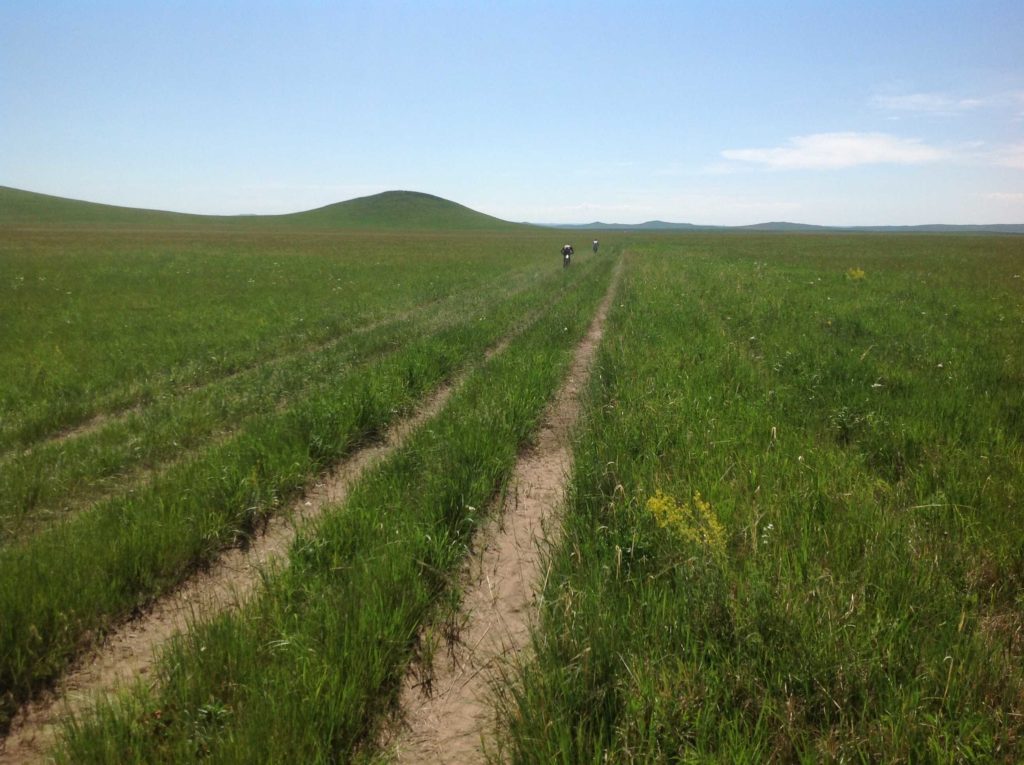 Tuulkhangai chasing Altanzul at  km 23 after he got dropped.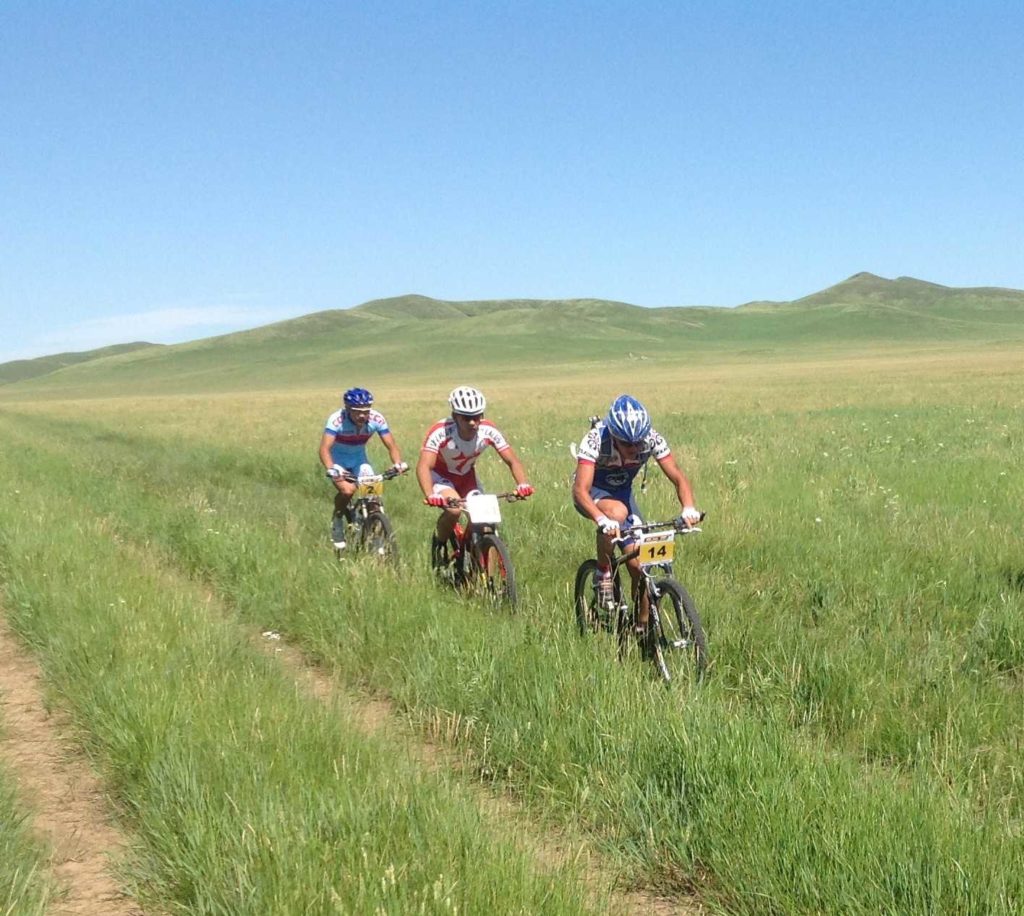 The trio chasing the top duo, including Hu Hao from Team Specialized.
The podium of today's Cannondale Cannonball sprint with Tuulkhangai ahead of Altanzul.
Opening local dance of the 2013 Genghis Khan MTB Adventure
Riders met a lot of sheep in the grasslands today