As we previously highlighted in our Focus on Athlete series, a few people already accomplished last year what is now officially introduced as the King of the Grasslands competition: three days of long distance MTB + the Grassland Marathon. Previously we shed the spotlight on Hauke Stockrahm, now it is the turn of China's Ji Xinli.
He was the only Chinese who finished the race of "King of Grassland" last year, and he was born in the  80s. He loves eating and running, as well as riding for a long trip. Having participated in dozens of marathons and 6 100km cross-country run events, however, placing is never his aim. "When I am in race, the only thing I care is enjoying",he said. He is Jixin Li, coming from Shanghai.
Q1: Why did you decide to join both full marathon and three days of MTB ? Had you ever been in such a race of endurance before? What makes GKF different from other outdoor endurance races?
A : The grassland was definitely the first attraction to me. To run and ride bike on the boundless grassland was undoubtedly a fascinating experience worth trying.
I' had never participated in such running combined with biking endurance race before, but I've participated in both 100 km road and trail running event before as well as the two and half days' of Tour of Qinghai Lake. I still feel that I underestimated the toughness of the Genghis Khan event, but I learnt more from it.
The main difference GKF has from other endurance races is its three-day MTB racing. Because riding on the grassland really costs more strength than expected. Since each stage of riding is equally tough, a proper rest and recovery during the event is even more important than the race itself, and you have to count less on a single day's performance.
Q2 : You were placed 23 in last year's full marathon, and how did you feel about the whole track? Do you have any suggestion on equipment and supply to beginning runners?
A: The track of full marathon was extremely wonderful, partly because of the rain one day before. The soft grassland after the rain made this marathon race an unparalleled enjoyment. This was the most comfortable race I've ever wearing Vibram Fivefingers. I personally strongly suggest people who love to listen to music while running don't let music block your ears during the Grassland Marathon because the natural music of wind was really charming and intoxicating…
The refreshment stations provided by the event organizer were great. One suggestion is to have one bottle of water in hand in the late period of the race, in case you need it when you get lost or are suffering from the hot weather. But remember not to litter the empty bottle until the next drinking station. Er…and one more thing, if by any chance you are confronted with rain, the track might be muddy and the shoes might look a bit dirty, so be sure to prepare more socks so that you can also enjoy the race after the rain…
Q3 : The first stage of the MTB race last year was extremely tough because of the rain at the start. I heard that on the third MTB day, it was your roommate who persuaded you to go to the arena so that you could finish the race. Could you please tell us what it felt like?
A: Yes, we were faced with a heavy rainshower right after start of the 63 km MTB race on the first day. That cloud in the sky followed us for about 1 hour,  which seemed like a gift presented by the grassland. The rain was not a problem but the often muddy track was. It brought lots of difficulties. So when we got back to the start/finish when we finished the race, everybody and our bikes were muddy. I couldn't forget the happy moment when we washed the bikes and "took shower" in the afterglow of setting sun at the Culture Square. It became the most beautiful scene of this event in my mind.
After the marathon of the second day and 43 km MTB race, I was not so afraid of the last day's race, and had faith in finishing it. But the rain and thunder at  night made me frustrated. It recalled me of the toughness of the first day. And for me particularly, I had to catch the bus at 3 p.m. back to Beijing, which means I had to finish the 100km's race in 5 and half hours. Of course it was ok if everything went smooth. But in the muddy grassland, I didn't have the faith to finish it within the time, let alone I might get lost—I did get lost in the first two days' race. So when it rained, I was about to give up the race of the last day. My roommate Ping Yuan, who signed up the same races with me, would take part in the race with me if it was not because his tire got destroyed in the second day's race. We had a long discussion about the track and any possible problems on the last day, and then I made up my mind to take part in the race. Even though I didn't get time to have breakfast because of the discussion, it's more important that I had my courage back. I put on all my cycling apparel, scarf, helmet, gloves, bag, watch…and started off!
When I was standing at the start, I was not afraid at all; I was all thinking about just finish the race! Er… fine, I was also thinking of "coming back alive":D. Sometimes only when you did it, that you knew you was capable of it!
Q4 : Did you even pick up the empty bottles littered by the runners before you? Didn't you think it may affect your performance?
A: Yes, I did pick them up. After having enjoyed the beauty of the grassland, I found anything that didn't belong here offending to the eyes. I thought I should do it for the sake of the grassland even though I knew they would be collected by event volunteers.
It of course affected my performance. If I put all my heart in running, I might make it in the top ten. This time I got the closest to my personal best. But I didn't expect I could get the 23rd place because I didn't try my best, but I had such a great time during the running. The rank is always not the most important for each race but what you been through must be valued the most.
Q5 : Do you often ride bike or run? Where do you train most of the time? What frequency and strength do you get?
A: Yes, I live in Shanghai, and I often train in the Century Park in Pudong. The periphery of the park is 5 km's long and it's a proper place of training. I run 200 km in total in the training month, and also go to other city to have a cross country running every month. I do cycling less regular than running. I don't train biking on purpose, because the riding skill and capability is easy to be memorized by the body, and hard to forget once grasped. So the normal physical training plus the adaptive training before the race is enough for me to recover to the normal level.
Q6 : You are also known to have " a good appetite " among friends. Do you have any special diet? Do you have special diet (before and after) for the race? What are they?
A: Eating is indeed my constant pursuing but I'm not picky about food. I eat delicious food as well as those hard to swallow if I need them. Neither do I have any particular diet during the event, nor eat food too spicy.
In such endurance race, especially those last for more than one day, it is important to have meals suited to one's own appetite, and do not change it or try something new. Food suited you and easy to digest is fine.
Q7 : The time limit for Genghis Khan Festival is 6 hours-and-a-half. What do you think is the biggest challenge and the most excited attraction of this event?
A: It was of the course the chance to enjoy the beautiful grassland no matter you run fast or slow. Actually, many of my friends decided not to run faster in the race only to have more time to spend on the grassland.
Nevertheless, if you wanted to get a good rank, you would also confront a small bunch of competitors around you. The ups and downs on the grassland would also mean a different challenge.
Q8 : You often participate in many cross country races , such as Hong Kong 100 km, Hangzhou West Lake Trail Running Race and so on. Do you have any method to avoid injury or fatigue? Are there any special supplies of nutrients or ways to recover?
A: Yes, after almost twenty marathon races and five 100 km cross-country races I took part in the last year, I was so happy that I didn't get injured at all. I don't have special trick but mainly depend on the right position of running and full understanding of my body.
When you about to get fatigued or injured, your body will alert you. We have to listen carefully to that. Meanwhile, a right position of running is also helpful to not getting injured. So if you want to run longer, you have to pay attention to your running position.
The best way of recovery is definitely eating for me. But also keep in mind that after each time of feeling fatigue, you have to give your body some time to recover before another round of training. Your body ability gets elevated after a high strength of training or race, but it is also experiencing the weakest time. Don't train until the body fully absorbs the training, then you will become much stronger, else you may get hurt.
Q9 : In what aspect do you think that the GKF  could do better ?
A: This event is already wonderful, but I've still got three suggestions. One was the direction signs. (I don't want to get lost any more) But I've heard that some clearer signs will be used for this year's event.  The second was on the second day of MTB race, I was not sure whether you arranged bus to carry participants' bikes back to the start. The third was that the last distance sign of the marathon race was not set rightly, which made the actual distance of the marathon near 44 km. Many people ran half an hour for the so called "last 2 km" (the last-minute issue with the track distance has been documented by the organising committee before and has of course been dealt with for the 2013 event, nordic ways)
Q10 : What are your race plans for this year? Are you confident in finishing them all?
A: I'm not so certain about this year's race schedule yet, because I raced too much in the last year, and I need to recover from them. I also have more work as the running coach and on advertising running. I'll take part in the TNF 100 held on May 4 in Beijing. And of course I want to go to the grassland again. 😀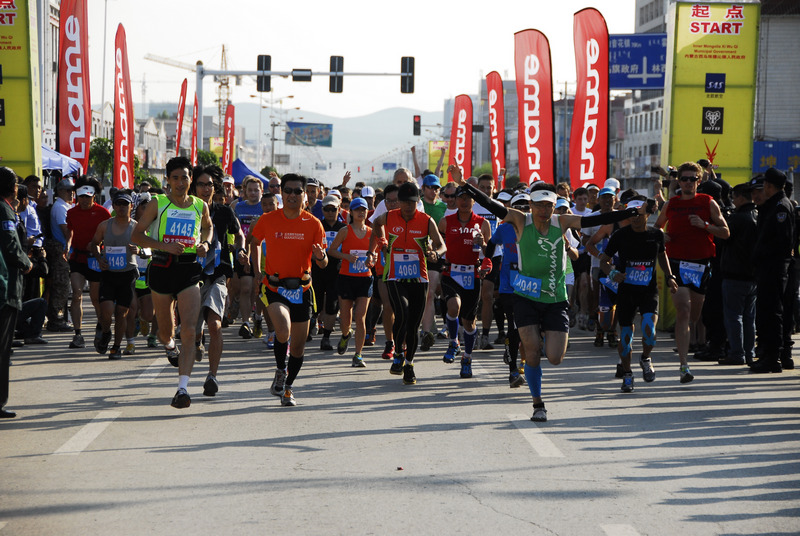 Ji Xinli (4042) – the unofficial King of the Grasslands last year