Austria is a small mountainous country south of Germany that it better known for its skiers than for its bikers and runners, but last year the women's Grassland Half Marathon was won by an Austrian lady. Maria Jammernegg, together with her husband Franz and son Georg, has been one of the most cheerful participants of the Genghis Khan Festival in the last two years and her victory made a lot of people very happy. Let's get to know Maria a bit better via our traditional Q&A.
a) The Genghis Khan Festival has become a classic on China's amateur sports calendar and will be organized already for the 8th time in 2014. How do you feel about this? I hope Nordic Ways and the Municipal Government of Xiwuqi can go on for many more years with this event. It is every year a high light on my and my families race calender.
b) Looking at difficulty level and event atmosphere, how does the Grassland Marathon compare with other running events that you have participated in in your career? As my focus is more on triathlon than on running I do not participate in too many running events throughout the year. But I participated in events in Austria, which are usually very well organized and quite challenging. But the Grassland Marathon is really unique and special. It is challenging but also nice to begin with running longer distances, because the atmosphere is very friendly, competitive of course – it is a race – but the competitors are relaxed and smiling, knowing that one of the best races you can do in China is ahead of them. To run through these gentle rolling hills calms me down but at the same time keeps the vibration high – a rare combination I did not feel in many races before. You just have to do it, feel it!
c) This year you will participate for the 3rd time. What do you like the most of the Genghis Khan Festival weekend? What would you like to see improve? I like, that this is an event for the family – my husband does the MTB challenge. While he is on the bike my son and I enjoy the Grasslands on bike, we also went for horse riding. But most of all we enjoy being outside in the nature and inhale some fresh air and share our interest for sports. While I am on the run my husband and my son try to find me on their bikes and cheer me on. Maybe the transportation of people and bikes back to Xiwuqi on the second day could be better organised in case you do not stay at the Yurts. There was quite a long waiting time and after a race when you are tired a quicker transfer back to Xiwuqi would be convenient. But everything else in my opinion – from arrival at the airport till drop off there at the end of the event was really well organised.
d) Last year you won the women's half marathon. Was that a surprise for you or did you really focus on the race after your first experience in 2012? It was a great surprise for me and it was overwhelming. As my main focus is on triathlon I planned this run as a "trainings" run. But after a few km my legs felt really good and I forgot about "training" and changed to "race" speed. Until the finish line I did not know that I was in the lead. This special "Grassland Marathon Feeling" really got me and made me work hard. It was fantastic.
e) How did you start with the sport of running? Are you a member of a club or team in Shanghai? I did many different kind of sports throughout my life, but never joined in races. Running was always an important part in my life. When we moved to Shanghai about 4 years ago I tried to find a new challenge in my life and I started with Triathlon training about 2 years ago, so running became an even more important part in my life. I am a member of the Shanghai Triathlon Club.
f) Since you live in Shanghai, have you noticed any change in China's running scene? I have the feeling that people are really ambitious, motivated, more and more people start with running. In Shanghai on more and more days you see crowds of people running. And what I like most – they do not run alone, they run in groups, they support each other, they keep each other going. They challenge and motivate each other and I have the feeling the more and more runners are interested in extreme running events like Ultra runs and trail running.
g) Where do you usually train in Shanghai? Mostly I run around Century park but also sometimes go outside to Dongshan or Jiulongshan to run some hills. At "bad air days" I do my training in a gym.
h) Do you have a pre-race ritual ? Music? Stretching? Things you must do before a race? I do a short warm up run, some running technic exercises and listen to my favorite "racesongs". I also like to talk to people when we gather around the start line. I am interested in the people I am running with.
i) What type of shoes do you run with in Xiwuqi? Regular running shoes or more specific trail running shoes? The frist year I ran with my regular running shoes, last year I ran with trail running shoes. I prefer the trail running shoes. But in dry weather conditions it is also manageable with regular running shoes.

j) What do you recall as your greatest moment in running so far? The last 1 km last year at the Grassland Half Marathon – when you see all these friendly people cheering you on, supporting you and finally when I crossed the finish line and my husband yelled at me: "You did it! You are the winner!"
k) What is your personal ambition for this year's event? I signed up for my very first full marathon!
l) How do you plan to prepare yourself for the race this year? I'll go on with my triathlon training as usual but put a much higher focus on running. m) Which advice would you give to people who want to take part in the Grassland Marathon or half marathon? If you did not sign up yet – do it NOW! Go, have fun and enjoy the atmosphere! Enjoy and absorb this unique, breathtaking moment when you arrive on top of the first hill behind Nadamu Arena and you have the first view over the Grasslands! And be aware that you maybe join the best marathon ever!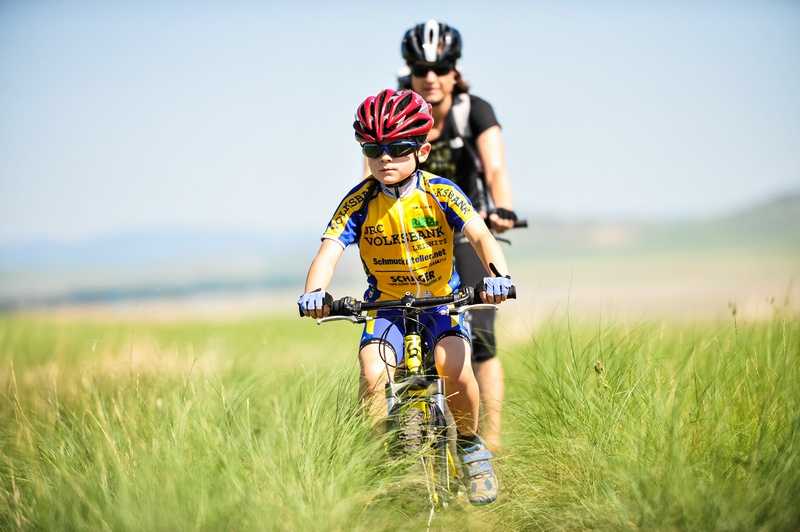 Maria accompanying her son Georg during the last day's MTB short distance ride