Wang Lidong is the reigning King of the Grasslands in Xiwuqi. Last July, he grabbed the crown at the expense of Germany's Hauke Stockrahm with a great combination of skill, experience and bravery. Hailing from Daqing in Heilongjiang, Wang Lidong is not big in size but his sporting achievements most surely are. Time for a brief Q&A.
1.Do you often take part in mountain bike races? What do you think of the Genghis Khan Festival and other events you have attended?
I like biking and running, and especially the exciting feeling of a MTB race. Genghis Khan MTB is a three-day long distance race on the grassland, which is just amazing! You can learn, get in touch with experienced riders from home and abroad, which makes this a very worthwhile event to participate in.
2. When the new King of the Grasslands competition was announced last year, you signed up on the first possible occasion. What made you feel so enthusiastic about this new extreme form of competition in Xiwuqi?
I had participated in Genghis Khan MTB for several years, and every year my ranking was about tenth. But the last two years there are more participants from Mongolia who come to do the race, so it has become harder and harder to get into the top six. The KOG is more suitable for me, because I like long-distance running also, although I had never run a marathon before. For me that was definitely a challenge.I'm better in biking than running, so last year I saved time in the biking compared to others even when my running result was good,too. It's also the main reason for me to participate in KOG. I think I made the right choice.
3. What were the main difficulties you encountered in the competition, was it harder than you thought?
The second day is the toughest. It was the day I ran my first marathon in my life, so I did not know how to allocate my physical strengths. After 20km of running I was still just inside the top 10 and I could see no one behind me. But after 35 km my legs were gone, and I only moved forward slowly and my muscles had stiffened up entirely. Runners passed me one by one, but I did not care because they were not KOG participants, as I could judge from their number bib. But soon, two more runners passed me, they were KOG participants and thus competitors. Then, I fought for it! I tried to speed up and shorten the distance to those two. I pushed hard, but still I was behind 7-8 minutes in the last five kilometers. Fortunately, my race time of the first MTB stage was good so I remained very much in contention for the KOG ranking. After finishing the marathon, my legs were numb, and I was barely able to walk. I moved with small steps to a restaurant for lunch, and then moved back to the hotel, walking was very painful. I also could not fall asleep. When the second stage of the mountain bike race was about to start in the afternoon, I could not lift my leg onto the bike. I had to lower the bike first, step over it and then raise it back up. Soon, however, I could ride, and the pain gradually disappeared. I then learnt to understand that the muscles used for cycling and running are so different. Amazingly, I rode like mad during the stage in the afternoon and I got twentieth place overall, which laid the foundation for my KOG victory the next day.
4. When you knew that you had become the King of the Grasslands, what was the first thought that went through your mind?
When the organizers announced that I won, I thought that the event had definitely become more meaningful for me. Even without prize money (in 2014 there will be some prizemoney for KOG as well, nw), I received great honor.
5. For people aspiring to do the king of grassland competition, do you have any suggestions on training programs, nutrition or physical recovery during the event?
This competiton tests participants' comprehensive strength. Excellent bike equipment can save some energy for you in the race, but physical fitness is the key to victory. For physical training, in addition to train on endurance cycling I also do long distance running, so that you have some reserves to complete such a tough race. To do KOG, proper nutrition is also critical. I was grateful to have ENERVIT sports nutritional supplements products, which guaranteed me to be able to maximize my physical strengths.
6. So many times you have participated in Genghis Khan so you are already very familiar with Xiwuqi. Do you have any expectations or suggestions to improve this event based on your experience?
The competition is very attractive, and I am willing to participate again, but compared to other domestic competitions, the entry fee of Genghis Khan is a little high. But I love this event, that is why I participate in the competition so many times. Also hope that the organizing committee will set some prizemoney in the short distance race and in the older age group competitions, and increase the number of people who get prizes. In many cases, the first 30 participants will have a reward in domestic competitions, so the race can be popular and attract more people. Thanks to the organizing committee for giving me this opportunity to make recommendations on behalf of the majority of riders.
7.What is your favorite aspect of Genghis Khan Festival?
3 days of competition, this is both the crazy and fun part of the event.
8. In 2013 there were more than 30 participants who completed the KOG, and more competitors are expected for the coming year. Are you ready to respond and to defend your crown?
If I am able to participate in the competition in 2014, then I'll definitely try to fight for this honor.
9. Are there a lot of mountain bike riders in Daqing city? Is it easy to find bikers with almost the same level as you?
Daqing is only plain areas. No off-road sections there. Although a lot of people like mountain biking, they are riding on the road and a lot of people are about my level. But most people do not like to participate in a cross-country race.
10. If you did not participate in mountain bike race, what time do you expect to run the grassland marathon in?
Before this year, I had never run a marathon and I did 3h44. But next year I should be able to complete the marathon in three hours or less. I expect next year to achieve a breakthrough.
Wanglidong wear No.58(the Fourth) in the stage 1 of Genghis Khan MTB race
arrived at the dringking station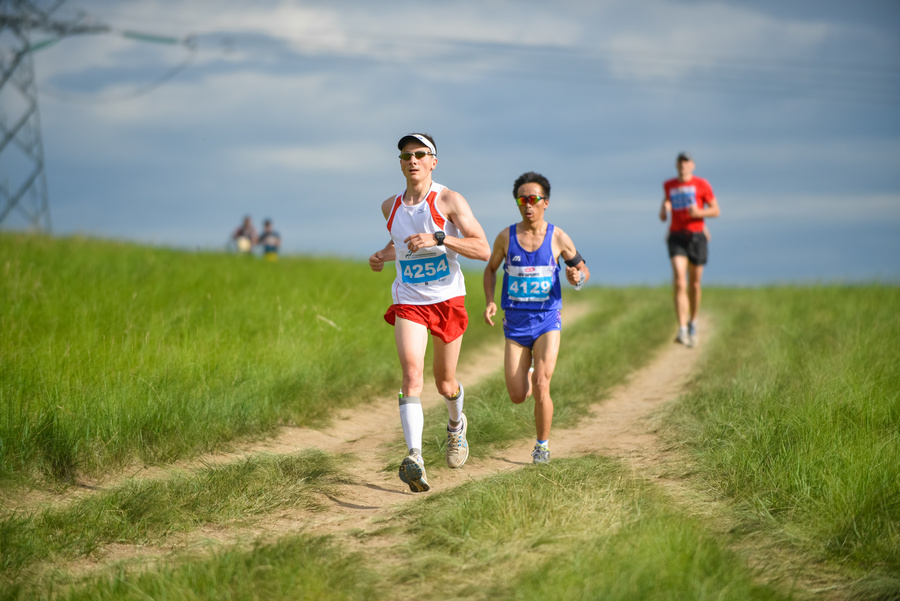 Wanglidong was dressed in NO.4129, this is the first time he ran a full marathon