The 10th anniversary edition of the Genghis Khan MTB Adventure went to 19-year-old Mongolian Sainbayar Jambaljamts. His main rival Baasaankhuu suffered a puncture halfway and had to settle for third. Tugulduur Tuulkhanghai won the stage, his seventh career stage win in Xiwuqi.
In the women's, the 100km tough and rather windy stage in hot temperatures finally seperated Enja Tuvshinjargal and Solongo Tserenlham. Enja dropped the 2012 champion and finished solo for her second overall victory in the Genghis Khan MTB after 2013.
Eight riders coloured the early stages of the 3rd stage today, until the riders entered the hilly section. Myagmarsuren Baasaankhuu had to make up 1'11" on Jambaljamts and wasted no time being the better climber on paper. Miga's attacks were plenty and ferocious, but the young Jamba gritted his teeth together and did not let go off Miga's wheel. The attacks did drop Tuulkhangai, Bertsch and the others. Just when Jamba was beginning to look more strained by the efforts, the unfortunate happened: a puncture for Miga! That meant the end of his chances for the overall victory. Philipp Bertsch, who had his best day of the weekend, also suffered a deflated tire on the same gravel road. The sudden confusion led to Tugu coming back to a waiting Jamba, and together the two would continue to extend the gap on the rest of the field. The 32-year old Tuulkhangai is Jamba's mentor, which meant the two were cooperating rather than attacking each other. Eventually, Tugu chased his second stage win in the final six kilometres, leaving Jamba comfortably with the overall win.
Green jersey holder Zhang Zhenlong held onto his lead over his nearest rivals and is the new King of the Grasslands. Wang Guolong had a brave effort today and finished fourteen minutes ahead of Zhang Zhenlong and Wang Lidong, but the marathon run yesterday of Zhang Zhenlong was just too fast!
Russia's Irina Gribanova is the new Queen of the Grasslands as she stayed ahead of China's Ren Shufang in the last MTB stage.
Top 15 Male
1. Tuguldur Tuulkhangai (MGL) 3:18:43
2. Sainbayar Jambaljamts (MGL) 3:19:37
3. Myagmarsuren Baasaankhuu (MGL) 3:23:59
4. Philipp Bertsch (GER) 3:27:35
5. Altan Ochir Erdenebat (MGL) 3:44:31
6. Bayanjargal Batsaikhan (MGL) 3:44:31
7. Soeren Muller (GER) 3:44:52
8. Iderbold Bold (MGL) 3:44:52
9. Wang Guolong (CHN) 3:45:01
10. Wang Lidong (CHN) 3:58:27
11. Zhan Zhenlong (CHN) 3:58:32
12. Zhou Jinqiang (CHN) 4:10:12
13. Alexey Chakhlov (RUS) 4:10:48
14. Arnold Lozano (PHI) 4:11:06
15. Jia Shuangqiang (CHN) 4:11:07
Top 10 Female
1. Enja Tuvshinjargal (MGL) 3:44:53
2. Solongo Tserenlham (MGL) 3:58:29
3. Chiara Eberle (GER) 4:15:40
4. Delgermaa Dalanbayar (MGL)  4:21:14
5. Qin Ziye (CHN) 4:24:37
6. Irina Gribanova (RUS) 4:48:06
7. Song Kaili (CHN) 5:01:11
8. Sugarjav Khurelsukh (MGL) 5:02:06
9. Ren Shufang (CHN) 5:05:05
Enja Tuvshinjargal wins the GKF for the second time after 2013.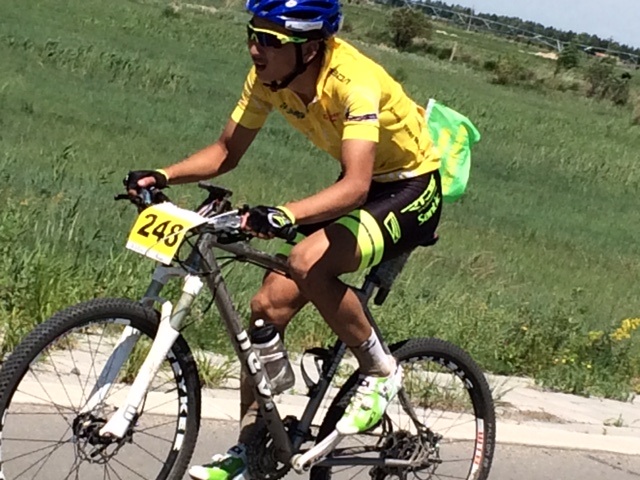 Zhang Zhenlong is the new King of the Grasslands!